Private Parties
The 'Teddy Bears Picnic' and the 'Puppet Circus' were always featured at our private engagements.
Buckingham Palace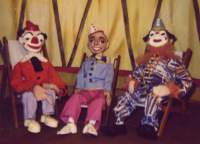 When Joan and Ron were invited to Buckingham Palace we were all very excited and obviously wanted to go with them to help. As children we often did this when visiting stately homes. But they in their wisdom decided to take Joan's father a World War I veteran, who had helped them in their early days. It was something he enjoyed talking about for the rest of his life.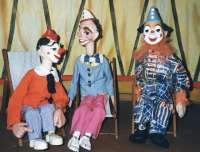 This was to be the first Christmas Party to be held in the Palace since the accession of H.M.Queen Elizabeth. We were used to carrying all our equipment over quite long distances but Joan tells me that there had been none so long as the great staircase leading to the Green Drawing Room. They set up their theatre across the huge gilded doors that led to the throne room. They were obviously very excited when the doors were opened to allow them to leave their coats there. It was difficult to concentrate on setting up the theatre surrounded as they were by a magnificent display of Sevres china and wonderful pictures.
After the show they were asked to wait before packing the marionettes away and were surprised when a girl and boy raced across the empty room to come back stage. The children knew the show well from attending the parties of their friends but were enthralled to meet the marionettes in person and to be allowed to pull one or two strings.
The bridge of a marionette theatre is quite high and Ron and Joan were trying to help the children to manipulate the puppets without them falling off the bridge! Suddenly they became aware that someone was watching them with some amusement. Ron left Joan to cope with two excited children and she never did manage to get around to making her curtsey.

Leeds Castle

Leeds Castle with it's moat is a picture book castle, below stairs the Castle is cavernous and it was easy to get lost among the winding stone staircases. Every year the elderly Lady Baillie would give a party for all the workers on the estate with their children. She personally supervised the distribution of gifts from a huge Christmas tree. There were many little asides to her steward "Now you did get the slippers she wanted?" The assurance always came that everything had been taken care of. After the show Joan and Ron enjoyed sherry in the library with her ladyship and her guests which was a special pleasure.
Years later on a tourist trail at the Castle, when Joan was in her 70's we both agreed that the tour gave no idea of the immensity of the place.
Hever Castle
I have only vague memories of visiting Hever Castle but Joan has an excellent memory, so these recollections are hers.

(From Joans' notes) It was fascinating to see some of the private rooms that Anne Boleyn would have known but Hever Castle gave me an insight into some of the post war problems encountered in the running of such a large house. The young butler showed us the room in which we were to set up the theatre and apologised for leaving us. He explained that the house was mainly run by himself, a footman and a cook. Later we were invited into his pantry for tea. We walked what seemed to be miles to get to it and he told us of some of the little ruses he employed so that guests did not notice the lack of staff. For example having fridges dotted about the many rooms so that ice and plates of canapes would always be at hand. "Don't eat one" he warned "they're stale! But at least they look good. I offer them but luckily no one takes one". He explained that permanent staff would not work in the country now so temporary domestic staff had to be recruited from the village. But now there was no one left to recruit.
Humphrey Lyttleton (from Joan's notes)

It was high summer and the Lyttletons had just moved into a newly built house of an unusual design. It had one storey and was built around a central court yard. Each room not only opened into the next but also into the courtyard. This arrangement fascinated the small guests who raced in and out, popping here and there, in a grand new game of hide and seek. There was no stopping them racing from room to room, carrying the gravel from the courtyard on their shoes to rugs and parquet floors.
Suddenly Ron saved the situation by sounding a fanfare that preceded the show a little early. It acted like magic. Children came racing to the music room from all directions. Children and gravel stayed happily enjoying the show until. much to the relief of everyone. it was 'time for carriages'.
When we next performed there we noticed the courtyard had been paved!
Kenneth More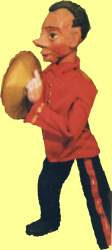 Kenneth More gave a large and lavish childrens party each year in a London Hotel. On one occasion we were surprised to see Lauren Bacall enjoying the show with all the children sitting around her. Kenneth More would always make time to slip away from his guests and have a quiet word with us about business. As an actor he was genuinely interested in how we were doing.
Peter Sellers
Peter Sellers gave a party for his two children at the Mayfair Hotel. We were well used to fathers, drink in hand, discreetly enjoying the show from the back but Peter was sitting on the floor at the front leading the laughter and applause.