Changing Scene - Joan
Although Joan had interest and talent with ceramics particularly her work with clowns and dragons which were assessed at one point by Laurence Bradbury from the Tate Gallery no less, her heart was in the world of fashion.
Our marionettes were always well dressed. Joan had entered the world of court dressmakers as had her mother and grandmother before her. She had attended the Barret Trade School later to become the London College of Fashion and joined the fashion whirl surrounding the events and court presentions of the 30's. By contrast in the 40's she was to use her skills to "make do and mend" for Judy and I.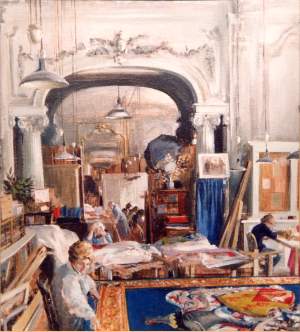 Although it had not been forseen in the 50's the dressing of marionettes would engage much of her time. This. however, did not prevent her starting a small business. Open fires were used to heat most homes at that time and following a series of stories about fire accidents in the press Joan designed and made flameproof nightwear for children. This nightwear was promoted by the magazine 'Nursery World' and sold by mail order. This led to big stores producing the quantities demanded by mothers throughout the country.
Moving on once again, led to a change in career in the early 80's. It was natural for Joan to want to join the world she knew as a girl. Court presentations were long passed and represented a different era. Unexpectedly she discovered the remants of that world in the Royal School of Needlework where she spent eight interesting years as Principal before retiring in 1988.