Summer Seasons - Light Up the Town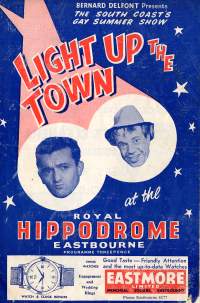 The best thing about 'Light up the Town' from my point of view was that it was my big debut into show business. I was to present our marionettes with Heather Lea so the act was not my sole responsibility. School was abandoned finally in favour of show business. We were what was called a Speciality Act which meant that in a summer show we would be expected to be part of the musical summer show scenes. We were given both singing and dancing lessons and took part in lots of rehearsals with the choreographer. I became very proficient with 'time steps' which is a good old stand by on such occasions.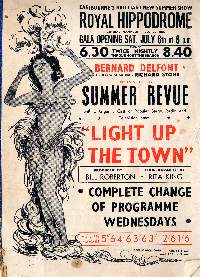 Then we were fitted for an amazing range of costumes and dancing shoes. Each pair was hand made and dyed to match our costumes by the stage shoe specialists Annello and David. The colours for the finale were cerise and white, so, encased in satin with a huge white ballerina frou frou at the back, I glided down the enormous staircase for the finale feeling I had definitely arrived!
Little did I know that opportunities on the Variety circuit, where I was booked to appear next as a solo artiste, were gradually grinding to a halt.
Many theatres were closed or adapted to clubs or bingo halls and bowling alleys as they became all the rage. Revue, however, was still in favour and although this required considerably more acting skills than I often felt I had, at least I had an Equity card and I was a very quick learner!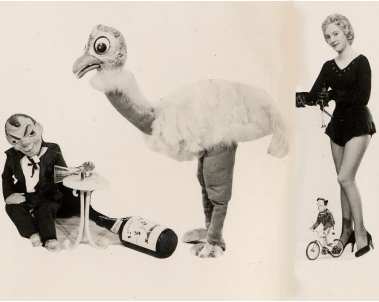 Ann's first summer season appearing in 'Light Up the Town' at Eastbourne Hippodrome.