Summer Seasons - Torch Theatre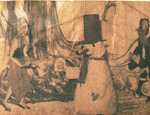 In 1952 a young friend and Guild member, John Wren, persuaded Ron to hire the Torch Theatre in Knightsbridge and put on a pantomime. The marionettes where all large at about 20" and needed needed a large puppet stage that could be erected on the stage of The Torch. A huge job, with full stage lighting and stage management.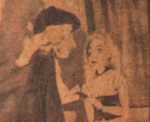 There were to be three shows a day and tickets sales went very well. The dress rehearsal was well in hand, when calamity struck! The theatre had been double booked! The entire show had to be dismantled and put up the following day. The first show was a disaster but it recovered and made a popular childrens' entertainment.
The show went on a tour of the provinces and record sales of tickets followed. Until Tynmouth in Devon. The show folded overnight, because George VI had died.
No alternative but to return to London and wait to see what a new reign would bring.